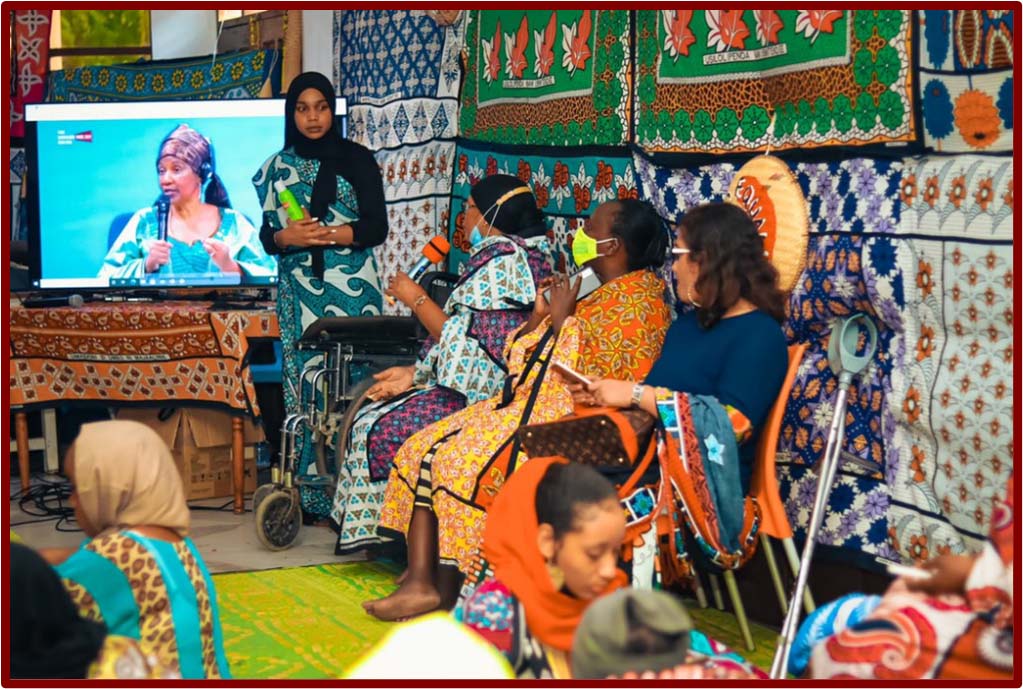 Reflections: Did the Generation Equality Forum Deliver for Africa? Nope!
Where I am coming from, a bad ass gender activist used to be called "Mama Beijing". In so many African countries, the Beijing conference of 1995 rejuvenated women's rights movement and created a space for governments and other stakeholders to act on gender equality! Just to be clear, women's right movement existed before Beijing, that is why African women were well represented in the conference.  However the Beijing conference created this magical wave of renewed spirit towards gender equality. 26 years latter, that spirit has gone down, and the excitement has fade away. However the Beijing promise (Beijing Declaration and Platform of Action) remained relevant today as it was 26 years ago.
Generation Equality Forum was a global gathering for gender equality convened by UN Women and co-hosted by the governments of Mexico and France, in partnership with youth and civil society. The forum was designed to invigorate the Beijing spirit and galvanize bold, ambitious, and game changing commitments towards gender equality. As we all know, gender equality is under resourced across the board, hence, Generation Equality Forum, focused on seeking financial commitments in 6 main thematic areas, dubbed action coalitions, these are Gender-Based Violence | Economic Justice and Rights | Bodily Autonomy and Sexual and Reproductive Health Rights (SRHR) | Feminist Action for Climate Justice | Technology and Innovation for Gender Equality | Feminist Movement and Leaderships
Attaining gender equality, needs everyone to act.  The Generation Equality Forum was designed in such a way, leaders of action coalitions were drawn from youth leaders, civil societies/ women's rights organizations, governments, private sector, philanthropies, and multilateral entities, and the same categories of actors who had no opportunity to lead were invited to be commitment makers. By the end of Paris Forum (2nd of July), 40 billion USD was committed, governments and public sector institutions had committed USD 21 Billion in gender equality investments, the private sector USD 13 Billion, and Philanthropy USD 4.5 Billion. UN entities, international and regional organizations committed an aggregate of USD 1.3 Billion. Based on commitments submitted in the platform, governments and stakeholders in Africa committed only 1 billion USD, half of it was committed by one government, government of Uganda. Sad right?
As a pan-Africanist, I was immensely interested on what African governments, civil societies, private sector, philanthropies, and other stakeholders had to commit. I strongly believe, while the rest of the world can and should support Africa, Africa need to rise for her people, Africa need to lead. This desire made me review all commitments made in the 'commitment platform' as by the 27th July 2021. The analysis presented here is based on "entities" committed and not number of commitments – for example, in the platform, same entity may have more than one commitment, or some entities will submit more than one entry due to limited number of words per commitment. In this analysis, all those commitments have been grouped as one.
Out of the 55 African countries, only 31 countries submitted their commitments. This means no single commitment was submitted  by 24 African countries. A total of 196 entities submitted their commitments from the  31 countries with total value of 1 billion USD. Kenya has the most commitment makers (42), followed by Nigeria (38), Tanzania (19), DRC (17), Cameroon (19) and South Africa (21). Countries with least commitment makers, one (1) each, include South Sudan, Guinea, Rwanda, Ethiopia, Morocco, Mauritania, Somalia and Equatorial Guinea.
Unfortunately, only 16 African governments submitted their commitments – Kenya, Nigeria, Tanzania, South Africa, Senegal, Burkina Faso, Uganda, Liberia, Zimbabwe, Gabon, Malawi, Mozambique, Madagascar, Tunisia, Somalia, and Rwanda. What was also interesting to note, in Rwanda and Somalia commitments received are from the government only, no civil societies or any other actors submitted their commitments.
Ending Gender Based Violence and advancing Economic Justice and Rights are the priority themes according to commitments submitted by African governments. Only Rwanda and Tunisia governments committed to advance Technology and Innovation for gender equality, while Malawi, Gabon, and South Africa government among other commitments, pledged to advance Feminist Movement and Leadership. It was heartbreaking to note, no single government explicitly committed to advance Feminist Action for Climate Justice, in fact, out of all commitments, Feminist Action for Climate Justice had less commitments despite the fact, climate crisis is a tragedy of our generation.
While Uganda government committed 577 million USD, 12 out 16 governments did not cost their commitments. This raises all the red alarms. As an African, I know how our governments are experts in giving lip services to the issue with no resources allocated to actualize those commitments. A lot of work need be done to ensure, these commitments are not shelved.
In a positive note, I was happy to note South Africa, Nigeria and Kenya government explicitly committed to ratify and implement the ILO Convention 190 on ending violence and harassment in the workplace. The Coalition of the Government of Burkina Faso, Benin, Guinea, Mali, Niger, and Togo committing to "integrate family life education, including menstrual hygiene management, into post-primary and secondary education curricula, safe spaces, centers and vocational schools by 2030" should inspire other African governments to work together. Further, I was thrilled to read commitment by Busia Women Prison in Kenya – female correction facility which has a mandate of humane safe custody of female offenders. The prison committed to "work with non-government organizations dealing with trauma and stress management to uplift incarcerated women self-esteem scrambled by the Criminal Justice system then later on provide hand skills using technical prison staff".
The government of Rwanda committed to "Enforce Gender parity in scholarships allowance in the Regional Center of Excellence for ICT. – Mobilize resources to Establish a Regional Network of women in science for increased collaboration between women in science and mentorship of the girl child – Mainstream Gender in [email protected] program (Digital skills for Innovative East African Industry). Develop the Smart Africa women and Girls ICT/Digital Blueprint to guide countries to bridge the gender digital divide. Conduct capacity on large scale across the East Africa Community to boost the number of women benefiting from "50 million African Women Speak Networking Platform (50MAWS)". -Enhance the 50MAWS platform to make it user friendlier".
Government of Malawi committed to 1. Fund and support diverse feminist activists, organizations, funds, and movements and allocate adequate resources to national gender equality mechanisms, especially for feminist movements, women's rights and women and youth led grassroots organizations including informal groups to advance gender equality. 2: Promote, expand, and protect civic space for feminist action, organizing and mobilization by supporting feminist movements that promote active participation of women and girls, boys, and men to advance gender equality, peace, and human rights by creating and sustaining a conducive environment to them to carry out their work in advancing gender equality.
Out of 196 entities only one private sector/financial institution – African Development Bank, made a commitment of 300 million USD to unlock 2 billion USD for African women owned business. Despite the growing number of foundations and philanthropies in Africa, only 3 registered their commitments in the platform; Mo Dewji of Tanzania, committing 1 million USD, Urgent Action Fund Africa committing 2 million USD and Jumuia Women Fund in Kenya committing 1 million USD. Aga khan University is the only academic/research institution in the entire continent which cared to commit 1.1 million USD aimed at advancing women leadership. Majority of commitments came from civil societies mostly women's right organization and significant number of commitments are from youth/girls led organizations.
While WRO engagement in GEF 'commitment platform' need to be commended and its success accredited to the feminist movement in Africa and beyond for mobilizing and inspiring as many women's right organization to commit, the absence or almost negligible engagement of other stakeholders confirms, we are still preaching to the converted. I did expect UN Women country offices, Embassies of France, and Mexico in Africa together with African governments leading different action coalitions will, intentionally, reach out to private sector, philanthropies, financial institutions, academic institutions, and other actors in Africa to submit game changing commitments especially on how they can transform their sectors and address structural inequalities blocking progress on gender equality. Their absence tells us one thing, still, gender equality agenda, is led by women's right organizations and governments (some governments to be specific). Africa needs all actors' hands on the deck to uproot patriarchy and attain gender equality. We cannot afford to sit back and wait for someone to do it for us.
As I read and re-read these commitments, I cannot stop feeling discontent that we might have yet again missed a generational opportunity to correct the wrong, renew the spirit and commit to do better. I hope all actors involved, will take time to learn and reflect, not only on the commitments made but also on the processes and strategies deployed. We can not continue to do the same thing, same way and expect different results. For the little that has been secured, it is my desire to see governments and civil society hold each other accountable toward a Generation Equality.
Reflections by Mwanahamisi Singano – @msalimu
---
Related Posts