2015 INTERNATIONAL DAY OF ZERO TOLERANCE FOR FGM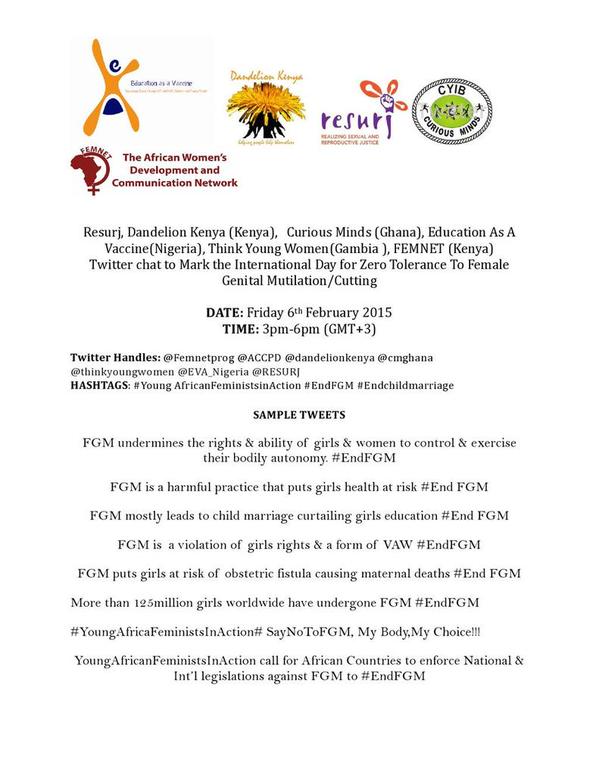 THEME: "Mobilization and Involvement of Health Personnel to Accelerate Zero Tolerance to Female Genital Mutilation/Cutting".
On 6th February we stand in solidarity together with the people around the world who are observing this annual International Zero Tolerance Day to eradicate Female Genital Mutilation/Cutting. This day fosters awareness of the harmful effects of female genital mutilation/cutting and renews the call for communities to abandon this inhumane practice.
FGM/C refers to a procedure involving partial or total removal of the external female genitalia. It is a practice that occurs across cultures and religions, although in fact no religion mandates the procedure. The practice is often performed and often using such instruments as broken glass, tin lids, scissors, unsterilized razors or surgical blades. According to World Health Organization, as many as 100 to 140 million girls and women worldwide currently live with the consequences of this dangerous practice.
Everyone must act jointly to abandon the practice, so that girls and their families who opt out do not become social outcasts. Communities working together to abandon FGM/C can ensure stronger, healthier futures for girls, young women, and their families. We all have an obligation to work together for the equality, well-being, and prosperity.
How to engage tomorrow: Use the hashtags #EndFGM #Zerotoleranceday #TogetherforZero add your voice to call for the abandonment of this harmful traditional practice.
---
Related Posts