Desk Research on the African Continental Free Trade Area (AfCFTA) on Women and Trade – a Pan-African Feminist Analysis
APPLICATION DEADLINE: 19th June 2020
The AfCFTA brings hope of a united integrated African market, however, although the AU mentions gender twice and women once in the entire agreement, this effort is not enough.  There is a need for a gender impact assessments pre and post AfCFTA and disaggregated data on specific aspects of the AfCFTA which have direct implications for African women and girls in order to achieve the 2063 aspirations and the 2030 goals. Considering the role of women in trade and the impact of trade on women, it is important to shift women's narrative from one of 'micro', 'inconsequential', 'small', and 'insignificant' to one of 'macro', 'critical', 'big' and 'significant'.
The purpose is to execute a research paper to understand and document the key gender dimensions on impacts of the Africa continental free trade area and how it affects women and trade. There is need for awareness-raising through information sharing across all levels of society, increased capacity to participate in forums affecting women in trade and investment, as well as the creation of dialogue and policy space which includes the most vulnerable groups in society including girls, women from rural areas and women and girls living with disabilities. Governments and donors can serve as strategic partners. Parallel processes and synergies cannot be undermined. State parties have committed to 'integrate a gender perspective in their policy decisions, legislation, development plans, programmes and activities and in all other spheres of life' and this must certainly include meaningful engagement, and they must be held accountable to their commitments.
Within FEMNET's vision we seek to, through a Consultant to commission a desk-based research on the African Continental Free Trade Area (AfCFTA) on Women and Trade – a Pan-African Feminist Analysis. With this paper FEMNET will mobilize women across Africa with other civil organizations to demand: greater access to information; civic participation in resource-chain; good governance; pro-poor policies & investments; greater transparency and accountability. It will do so at national, regional, continental and global level by linking to existing development and economic justice work.
The research will provide an analytical framework in order to devise strategies, messages and build the capacity of women to claim their rights. In this context the products will inform the process of our advocacy engagement framework at the national and continental level from a gender perspective. In particular the research outcomes will be used as an input into the process of developing a theory of change including gender and power analysis during an expert round-tables and workshops regionally.
Click here to Download/ Read the full Request for Expression of Interest for the Desk Research on AfCFTA
---
Related Posts
The African Continental Free Trade Area (AfCFTA) is arguably the most important trade-related issue currently taking place on
Learn More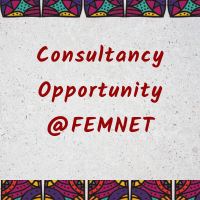 APPLICATION DEADLINE: 19th June 2020 The AfCFTA brings hope of a united integrated African market, however, although the AU
Learn More